The Art of Crafting History
Date:
Tue, 01/27/2015 -

7:00pm

-

9:00pm
Arts Habitat Presents
Arts in Progress

Julianne Burton-Carvajal
Ph.D., U.C. Santa Cruz Emerita
and
John Sanders
Naval Postgraduate School
At a New Location: The Press Club
668 Williams Street, at the corner of Fremont Boulevard, Seaside
Tuesday, January 27, 2015
Doors Open at 7:00 p.m.
Program Runs 7:30 to 8:30 p.m.
$10 Admission Fee
Arts Habitat will present historians Julianne Burton-Carvajal and John Sanders at Arts in Progress (AIP) on Tuesday, January 27th, 2015, for a presentation entitled The Art of Crafting History. The presentation will focus on two key themes: transforming 3-dimensional space and tools for outreach.
AIP takes place the fourth Tuesday of each month from 7:00 to 9:00 p.m. The Press Club is located just in front of the Monterey County Weekly office building. Doors open at 7:00 p.m. for socializing, eating and drinking; the program runs from 7:30 to 8:30; and the last half hour allows time for one on one conversation with the presenters and continued enjoyment of the evening. Food and beverage are available for purchase from the on-site concession, Perfectly Pressed.

After earning a Ph.D. in Spanish Literature from Yale in the 1970's, Julianne expanded her research and teaching focus to include the burgeoning film production of Latin America. Privileged to attend film festivals across the U.S., Latin America and Europe, she eventually published half a dozen Latin American film books in three languages - thanks in part to fellowships from the National Endowment for the Humanities and other agencies.
In the 1990's, her third decade on faculty of the University of California-Santa Cruz, Julianne created La Galería de Casa Latina and programmed it for the following six years, during and after her term as founding Chair of the pioneering Latin American & Latino Studies Program.
Relocating to Monterey in 1998, she joined the docent program (and later the Board of Trustees) of the Monterey Museum of Art, researching the La Mirada venue and spearheading events to showcase the history of the surrounding Monterey Mesa neighborhood, California's oldest. Under her editorship,
Noticias de Monterey, the venerable historical quarterly of the Monterey History & Art Association, showcased original research by both seasoned and emerging writers on topics ranging from the early 1600s to the present. Also as editor, she had the privilege of reconceiving and redesigning the California Mission Studies Association quarterly as a full-color, general-audience annual.
Awards for her work in history have been conferred by the Sourisseau Foundation at San Jose State University, the Santa Cruz Museum of Art and History, the Bonnie Gartshore Fund, and Los Californianos.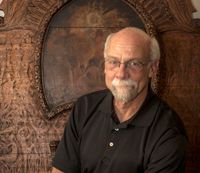 During his 30-year career at the Naval Postgraduate School, John Sanders has served as NPS spokesman to the press and the public, created publications and programs, developed special events, contributed to architectural restoration and historic preservation of buildings and grounds, and established an institutional archives.
Through his experiences as a public affairs officer as well as host of the Your Town community television program, he has interviewed dozens of people who have inspired a deeper appreciation of the remarkable history of this community and the unrivaled significance of Hotel Del Monte.
John's many internal and public presentations combine art, literature, film, music and science to tell stories about people and events that shaped and defined this region. Several of his Your Town programs are publicly accessible on You Tube. His writing has been published in newspapers, magazines, professional journals, dictionaries and books such as Doc's Lab: Myths & Legends of Cannery Row.